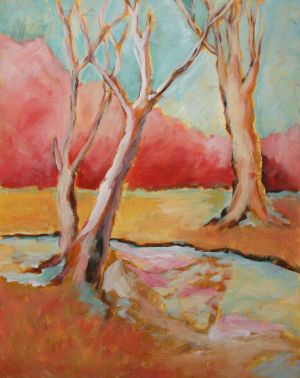 Contact
Ms. Johnson's studio is at The Clay Centre on Lloyd Street in Carrboro, NC and is open by appointment only. Her email address is jennyslash@earthlink.net and she can also be found on Facebook
Artist Biography
Jeannette AC Johnson lives in Chapel Hill, North Carolina with her husband, photographer Tony Patterson.
Ms. Johnson is inspired by her love of travel and nature. She enjoys kayaking North Carolina's Outer Banks as well as exploring the mountains of her native state. Her interests include gardening and meteorology.
Ms. Johnson is a member of the Orange County Artists Guild and she recently received her Master of Arts in Liberal Studies from the University of North Carolina-Greensboro.
Artist's Statement
"Each of us experiences the world in ways that are unique to each individual. I consider art as a language and each work as a dialogue - between subject and observer, artist and medium, artifact and viewer.
The decisions that I make during the course of my work are based on the continual development of this dialogue. I begin with my initial response to the subject matter. As the work progresses, my choices are based on the materials that I am using and the image that is developing.
In my current work, I have decided to work with a limited palette and to select colors in response to the overall composition. This frees me to concentrate on the dynamics of a particular gesture or to emphasize the unique qualities of shapes and contours.
In my most recent work, I have been exploring ways of capturing the gestures and movement of my brush and attempting to maintain a looseness and freshness to the handling which leaves space for the observer to appreciate the materials for their unique attributes. I have also been challenging myself to translate the spontaneity of my original field sketches into the final piece."